The prestigious 16th Headies Award took place on the 3rd of September 2023 at the Cobb Energy Performing Center in Atlanta, Georgia.
One of the highlights of the night was ODUMODU BLVCK securing the ROOKIE OF THE YEAR award, this category win came with a home from Citadel View Estate – an exquisitely completed 2bedroom apartment at the Citadel 2.0 Estate strategically located on Abraham Adesanya road, Lekki Lagos with a fully equipped solar system.
The DECLAN RICE Singer received the award with his team in an all-Black Agbada attire and his signature 'Okpu Isi Agu '- 'Cap of Leopard Head'.
Speaking at the awards ceremony, Dr. Ned Okonkwo made a statement that "it is unbelievable that a young boy who has always aspired to own a home currently does not even though he is busy passionately chasing and building his music career. What Citadel Views Estate has done as a company is to support him and ensure he will no longer need to worry about having a roof over his head as he continues to make great music.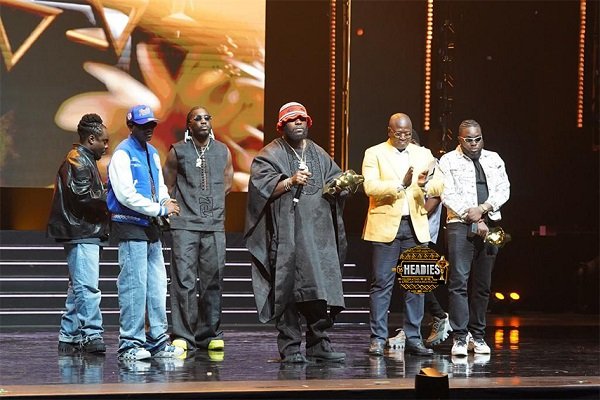 Rookie of the Year is a category for new discoveries who do not have an album in the works but have been talented enough to release great music. This is our own support to ensure that talents in the creative industry are supported fully to actualize and maximize their potential.
The beauty of this home we are giving to the winner is that it is in a fully solar-powered community. There is no need to worry about the price of diesel, costs are managed using solar panel systems, and energy bills are paid by the sun. I am excited that the rising talent Odumodu Blvck won this category.
We congratulate and appreciate Smooth Promotions and the entire team led by Ayo Animashaun for this very impactful platform they have been using to promote African talents and for the opportunity given to Citadel Views Estate to be a part of this. As Rema said, we must all come out to support Ayo Animashaun, who has continuously provided this platform in the Nigerian Music Industry with over 25 years to his records supporting hip-hop and Afrobeats".
Citadel Views Estate (CVE), with a tradition of excellence, understands the importance of sustainable energy solutions in residential housing and is dedicated to providing exquisite homes accessible to everyone, offering a variety of house options with exceptional cutting-edge amenities at reasonable prices.
Established in 2006, the Headies Awards recognizes outstanding achievements in the Nigerian music industry and we must continue to lend our support.