Not the first nor the second and definitely not the last but this is a beautiful bromance to admire, especially when you're an African, a Ghanaian for that matter. Sure, the chemistry between Ghanaian music and football has long existed, but not to this personal and epic proportions. Well if such has ever happened, then I may be too young to have noticed or my internet search has failed me.
This is one that many entertainment players in our industry should take note of. From the coastal terrains & sandy beaches in the Netherlands to the glistening grasses of the sunny London Stadium in England, Stonebwoy & Kudus have delivered a template of support & love for one's talent and creativity in equal measure.
Though from different worlds of music and football, both have found a common ground of brotherliness, perhaps inspired by their growth in similar communities; Nima & Ashaiman, to hoist the flag of their beloved Ghana high. This is love brewed in a pot at the Kotoka International Airport and flown through Europe, making stops at Farum, Amsterdam & now London. "Kudus x Stonebwoy, Things We Love To See" has surely taken over several WhatsApp Groups, Statuses and Channels not to mention other social media timelines of most Ghanaian football and music-loving fans.
For starters, Mohammed Kudus – Ghana's darling and Westham's star boy, has never hidden his love for Stonebwoy – Multi-award winning Reggae-Dancehall crooner. He has always professed his admiration for his Ghanaian brother. My first proof of this was his days at Ajax, where Kudus was seen jamming to the Bhimnation President's songs. Since then, the Nima prodigy has seized every opportunity possible to speak highly of the one-time BET winner and, more importantly, his music.
This has even become more profound since his move to Europa Conference League holders, Westham, last summer. The blossoming partnership has seen Stonebwoy's music & brand used in some content on the club's social media pages. I have personally not less than five materials to that effect. Simply put, Kudus has grabbed the opportunity to put a brother on the map. Beautiful innit?
And Stonebwoy, as strategic and business-minded as he is has taken full advantage to tap-in, like a clinical CR7 will do, just like he did in Kudus' days at the Johann Cruyff Arena. The culmination was what has taken over most tabloids since yesterday.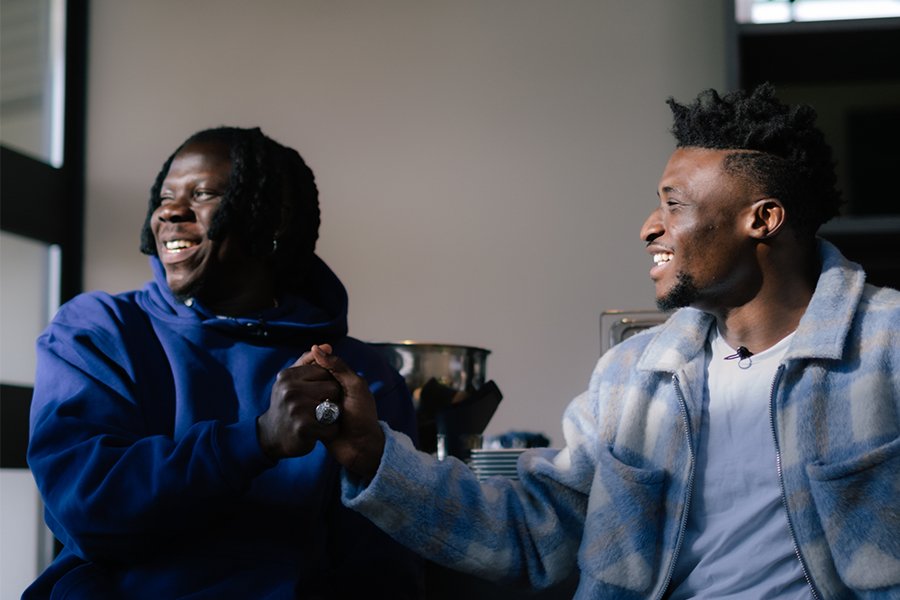 Stonebwoy's grand appearance to support Kudus in Westham's game against Newcastle, Kudus coming off the bench to salvage a point for the Irons, and the rest, are not so old to be called history but it's littered all over the internet. Content, hype, trends, and more importantly for me, a deliberate & conscious approach of pushing each other's brand, with Stonebwoy the biggest beneficiary.
This is support personified and one that should be encouraged. At a time when Ghanaian music players have been crying about being left behind by our Naija brothers & sisters, moves like these should be applauded and copied. Imagine Ernest Nuamah, Thomas Partey, Jordan Ayew, Fatawu Ishahakwu, Kamalden Sulemana, & some of our budding football talents introducing the music of their favourite artists to their clubs, fans, teammates, etc.
Of course, I've seen King Promise link up with Callum Hudson-Odoi, Sark has done that with Mohammed Salisu, Thomas Partey with KiDi & Kuami Eugene but Kudus & Stonebwoy have taken it a notch higher and I believe it is the way to go and the highest kudos goes to Kudus.

Ghanaian Sports Journalist Yaw Ofosu Larbi sums it up perfectly for me with this tweet, "What Kudus is doing for Stonebwoy is how we can push our music to the other side. Always ready to talk about the music he loves and mention the artiste. Nice touch." Where is the lie? Too much truth in one tweet and long may it continue!!!
Story by Qwesi Nabila, KobbyKyeiNews