In a world where women are often underrepresented in various fields, this young woman has broken through barriers and captured the attention of many with her charm, grace, and talent. Maame Animwaa, the recent recipient of the Ghana Outstanding Woman Radio Personality of the Year award at the 6th GOWA Awards. This prestigious honor comes as no surprise, given Maame's impressive track record in Ghana's media landscape.
Born in Ghana to a loving family of three siblings, Maame spent her formative years in the country before embarking on an adventure to the United Kingdom with her mother at the tender age of nine. It was there that she discovered her love for sports, specifically football, and went on to attend a sports school and later a sports college. Her athletic prowess earned her a spot on the county team, but her mother had other plans for her future. Fearing that her tomboy nature might overshadow her femininity, Maame's mother encouraged her to explore alternative career paths.
Obeying her mother's wishes, Maame shifted gears and pursued a degree in nursing, but eventually found herself drawn to oil and gas management. Alongside her academic endeavors, she continued to cultivate her artistic interests. After completing her studies, Maame returned to Ghana with a burning desire to pursue a career in acting. Little did she know that fate had different plans in store for her.
Thanks to her exceptional communication abilities, boundless creativity, and unmistakable voice, Maame was guided towards a career in media instead. And what a fortuitous turn of events it was! She commenced her journey in the field by hosting a program on TV3, followed by a stint on EIB Network's GHOne, where she captivated audiences with her entertainment segment. Today, she graces the airwaves of Starr FM with her effervescent presence, hosting the wildly popular radio program, "The Zone."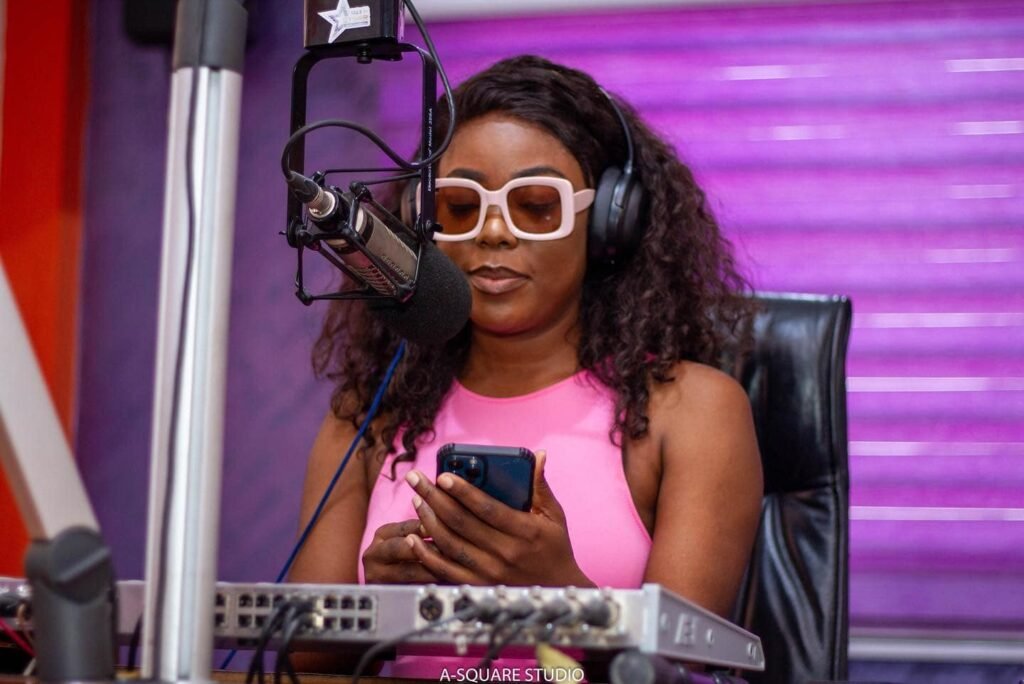 Maame's remarkable rise to prominence in Ghana's media scene has not gone unnoticed. At the 6th GOWA Awards, she was bestowed with the title of Ghana Outstanding Woman Radio Personality of the Year, solidifying her position as a trailblazer among her peers. This esteemed accolade speaks volumes about her dedication, perseverance, and commitment to excellence.
But Maame's success hasn't changed her down-to-earth demeanor. Despite her accomplishments, she retains a sense of humility and gratitude for every opportunity that comes her way. Her warm smile and lively personality have endeared her to countless fans across the nation, making her a beloved figure in Ghana's media landscape.
Maame's narrative transcends mere personal triumph; it serves as a source of motivation for aspiring young women everywhere. By defying conventions and pursuing her passions, she demonstrates that with tenacity, diligence, and a willingness to take risks, the sky truly is the limit. For young girls looking for role models, Maame Animwaa is a shining example of what can be achieved through hard work and determination.
As we celebrate Maame's victory as the Ghana Outstanding Woman Radio Personality of the Year, let us remember that her tale represents more than just individual success. It symbolizes the power of resilience, the importance of following one's heart, and the impact that can be made when we embrace our unique talents and pursue our dreams with unrelenting fervor. Maame Animwaa is a beacon of hope for those seeking inspiration, a reminder that with devotion and enthusiasm, anything is attainable.